CF Team News
Teammitglied
CLUBMEMBER
Mitglied seit

2008
Beiträge

36.212
Da die Arbeiten am gigantischen "Qiddiya Project" in der saudischen Wüste mit u.a.
Six Flags Park (u.a. höchste, längste und schnellste Achterbahn der Welt)
, Formel 1 Rennstrecke und vielen Hotels immer weiter voranschreiten, wird es auch mal Zeit für den zweiten großen Park des Gesamtprojektes ein eigenes Thema zu eröffnen, denn wo ein gigantischer Freizeitpark entsteht, darf ein Wasserpark nicht fehlen (alte chinesische Weisheit
).
Verglichen mit dem Six Flags Park sind hier allerdings noch nicht so viele Infos bekanntgegeben worden.
Auf der Homepage von Qiddiya wird der Wasserpark so beschrieben:
Water Theme Park

At Qiddiya, we want our guests to try and experience new things – and our Water Theme Park will be no different. Home to 23 rides and attractions - out of which seven will be world firsts - the park's theme and offerings have been designed keeping in mind the Kingdom's rich culture and heritage, and comfort of our guests. It will be the only water theme park in the world that offers a unique mix of dry and wet rides as well as state-of-the-art competition level facilities for those with a penchant for water sports.
Sieben der 23 Wasserparkattraktionen sind auch hier wieder Weltneuheiten oder Rekordbrecher, was bei Rutschen ja durch alle möglichen Kombinationen aus Elementen genauso einfach ist wie bei Achterbahnen.
Lage des Wasserparks zum Gesamtprojekt:
Vergleich zum Satellitenbild:
Die Umrisse der hellen Fläche passen schon zum Gesamtplan oben drüber
Ein erstes Artwork des größten Rutschenturmes + Wellenbecken davor: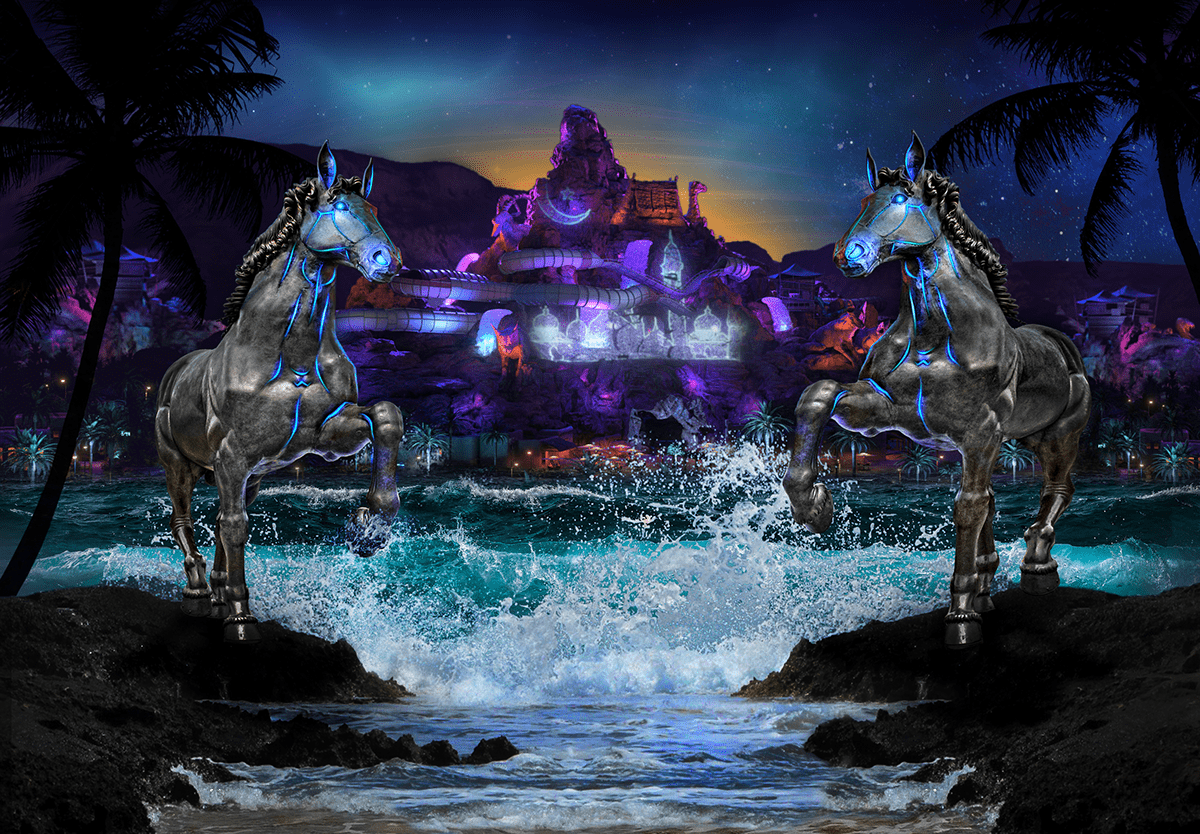 Das hier ist anscheinend schon ein aktuellerer Planungsstand:
Quelle
Quelle
Quelle (offizielle HP)
via
Quelle